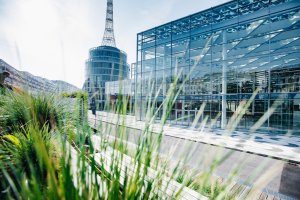 VIENNA (27th October 2019). Over the three days of the event, close to 1000 participants from 52 countries partake in workshops and sessions sorted under seven different themes: Enterprise Agility; Environmental Safety; The Worst Idea That Actual Worked; Coaching; Radical Innovation; Technical Excellence; and The Leader in You. Industry leaders and enthusiasts meet to learn, interact, find inspiration and to network.
Two Key note speakers will set the frame for the Vienna gathering:
Alex Osterwalder – business model innovator. He is co-founder of Strategyzer and of the Business Model Canvas.
Friederike Fabritius, neuroscientist and pioneer in the field of neuroleadership.  She is the author of the award-winning book, "The Leading Brain: Neuroscience Hacks to Work Smarter, Better, Happier"
The Gathering includes also an entire day devoted to Open Space.
In addition SGVIE19 includes a Coaches Clinic where people can meet with Certified Agile Coaches from the community.  The Exhibit Hall with sponsors and exhibitors presenting industry innovations will complete the programme for the participants.
Learn more about #SGVIE19 here: https://events.scrumalliance.org/vienna-2019
Mike Knight, Product Owner on the Scrum Alliance events team, comments on the Vienna Gathering:
"We are thrilled to hold our Gathering in Vienna this year and to be in this wonderful environment. It is officially our largest European Gathering to date and attendees are in for three days of learning, inspiration and networking – all with a Viennese flavor."
Martina Candillo, Director Congresses & Events at Messe Wien Exhibition & Congress Center adds. "We are happy to host the Annual Global Scrum Gathering and I look forward especially to the key note speakers. Their presentations also have an impact how the meeting industry should adapt the meetings they are organizing in the future, just thinking about the Business Model Canvas."
About Scrum Alliance®
Founded in 2001, Scrum Alliance is an organization that provides education, resources, and support to practitioners of Scrum and agile. We're the largest, most established and influential nonprofit organization in the agile community with close to a million practitioners worldwide. Our vision is to "Transform the World of Work" with a mission to guide and inspire individuals, leaders, and organizations with practices, principles, and values that create workplaces that are joyful, prosperous, and sustainable.
About Scrum
Scrum is a team-based agile framework for breaking down complex projects into smaller pieces, continuously delivering incremental value to customers on a more frequent basis while promoting higher productivity, employee engagement, and satisfaction. The agile mindset exhibits central values and behaviors of trust, flexibility, empowerment and collaboration.
 (c) Reed Exhibitions / David Faber
For further information please contact:
Mike Knight, Product Owner Scrum Alliance Team
Paul Hammerl, Director Brand PR Reed Exhibitions Österreich
Tel.: 0043-662-4477-2400
About Reed Exhibitions Austria: Reed Exhibitions Austria is a subsidiary of Reed Exhibitions (RELX-Group) in London, one of the market leaders in the exhibitions and events industry, operating in 40 different countries. The Austrian group consists of Reed Exhibitions Messe Salzburg, Reed Exhibitions Messe Wien, operator of Messe Wien, and STANDout, one of the Top 20 European stand building companies. With 390 employees, Reed Exhibitions Austria has offices in Salzburg, Vienna, Wels and Düsseldorf. www.reedexpo.at