Austrian Startup Waytation offers modern performance analysis tool for event organizers +++ Messe Wien is Waytation partner and prime mover +++ Successful test run during the EASL 2015 +++ Next assignment: EAACI Congress 2016 +++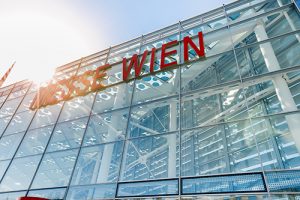 VIENNA (6 June 2016). – RFID and smartphone tracking is a thing of the past. Today modern performance analysis is called Waytation, is "made in Austria" and will be used on many occasions at the Messe Wien Exhibitions & Congress Center.
Tracking and Analysis System
Waytation is a young Startup from Vienna (Austria) and offers a revolutionary plug & play solution for the precise analysis of customer, visitor or attendee behavior during events, no matter what size. Compared to previous methods with iBeacon/RFID/camera systems/smartphones, the Waytation technology offers 100 % coverage, works completely in the background and is much cheaper than conventional solutions. Waytation only uses a small chip that, for example, could be attached to the visitor's badge. Waytation does not require any app download, access to personal data or filling out questionnaires.
Visible Benefit for Organizers
Waytation provides organizers with a cloud platform, where the generated data and analyses can be monitored and compared. Amongst others the system knows where visitors spend their time and what their dwell time is. It delivers a seamless solution to capture and analyze the full offline customer-journey, visualizes an exact summary, both chronologically and localized, of the whereabouts of the visitors. It also shows the number of attendees at the event's sessions or lectures and it pictures the top-spots, either during the whole event, or even sized down to the exact spot at the exhibition booths.
EASL 2015: First Successful Live Test
Reed Exhibitions, the exclusive operator of Vienna's Messe Wien Exhibitions & Congress Center, was both motivator and promoter of the dynamic startup Waytation. In the beginning of 2015 first talks and site inspections took place with Waytation founders Cemsit Yelgin and Florian Bräuer. During that time Gregoire Pavillon, Executive Director, European Association for the Study of the Liver EASL, could be convinced to use the Waytation system during the 50th EASL (April 22-26, 2015), which was held at the Messe Wien Exhibitions & Congress Center. The abundantly satisfactory results: more than 2 billion data sets that were collected and evaluated from 12,000 delegates and 150 partnering companies at the premises measuring 65,000 sq. m. (700,000 sq. ft.) in total.
Messe Wien is Waytation Ready
After the EASL 2015 Reed Exhibitions soon decided to get the Messe Wien Exhibitions & Congress Center Waytation ready, meaning that the whole premises was optimized for full usage by Waytation technicians. As of today, every event taking place at the Messe Wien could be monitored and analyzed by the Waytation system.
Next Stop: EAACI 2016
News of the most successful Waytation trial run during the EASL 2015 has traveled fast within the congress and events industry. After having been used at the ECR 2016, Waytation will again come into action for the EAACI Congress 2016 (European Academy of Allergy and Clinical Immunology), which takes place June 11-15, 2016, at the Messe Wien Exhibitions & Congress Center.
Reed Exhibitions also stressed, that it would make use of Waytation for some of their own shows and exhibitions in the upcoming season 2016/17. (+++)
For more information about Messe Wien visit www.messecongress.at and Facebook www.facebook.com/messewiencongress.
For further information contact the Reed Exhibitions Press & PR Team:
Director Press & PR: Paul Hammerl
paul.hammerl@reedexpo.at
Senior PR Manager: Oliver-John Perry
T: +43 1 727 20 2421
oliver-john.perry@reedexpo.at
PR Coordinator: Karin Nistler
T: +43 1 727 20 2420
karin.nistler@reedexpo.at
Downloads