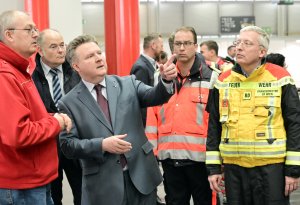 On March 17, Reed Exhibitions Austria hit the headlines with the incredible story of how it had transformed its Viennese exhibition halls into an 800-bed field hospital to help fight COVID-19 – all in the space of just three days.
In the weeks since, the media has brought regular news of the latest venues to be requisitioned to the coronavirus cause, including New York's Javits Centre and ExCel London. But outside of China, Messe Vienna, which is owned by the City of Vienna and run by Reed Exhibitions, was the first to act.
"On Friday, 13th March, we were approached by representatives of the City of Vienna, who were desperately struggling with the question of how to provide medical care if demand exceeded capacity at Vienna's hospitals" explains Oliver-John Perry, Director of Marketing & Communications. "They wanted to create an extra 3,100 beds for patients with minor COVID-19-related issues, thus saving hospital beds for the more serious cases."
With 75,000 gross m2 of space, a central location and easy access, the Viennese halls were the obvious choice.  Reed Exhibitions Austria's CEO Benedikt Binder-Krieglstein agreed to assist immediately, and the team started planning a hyper-fast build.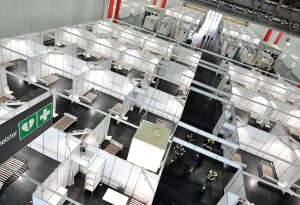 "Originally the emergency services in charge were planning on using their own builders and catering service, but they quickly discovered that we and our venue partners had all they needed right on site" explains Perry. "Our stand building company STANDout was able to supply and install all the partition walls and technical appliances and our catering partner Gerstner is preparing all the meals needed in their on-site kitchens."
"Because all the equipment and materials were close at hand, we were able to set up the first 880 cubicles in just three days, with the city donating the hospital beds" adds Perry. "We could even cater for meeting and briefing rooms for the medical staff and emergency services on site."
Today, all 3,100 beds are ready and waiting to receive COVID-19 patients, should they be needed, thanks to the tremendous efforts of Reed Heroes Martin Kreidl (technical operations); Gerald Klaushofer (STANDout director operations & order management) and his STANDout crew on site in Vienna; Martina Candillo (director congresses & events management); Denis Smajlagic (Head of Facility Management) and many other helping hands.
Reed Exhibitions Austria's video of the hospital build has since had nearly 5,000 hits on YouTube.
For more information contact Oliver-John Perry.
Photo  credit: C. Jobst / PID