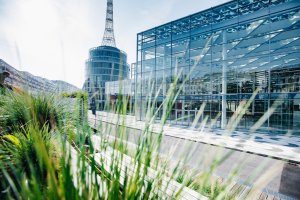 VIENNA (February 4, 2020). – Inflammatory bowel disease: Scientists are making progress in researching and treating ulcerative colitis and Crohn's disease, but the causes of these diseases remain unknown. These diseases could affect more than 5 million people. The congress at the Messe Wien Exhibition & Congress Center discusses the latest research results as well as therapy and healing options.
7,000 participants from 95 countries
More than 7,000 participants from over 95 countries are expected to attend the 15th annual conference of the European Crohn's and Colitis Organization from February 12th to 15th, 2020 at the Messe Wien Exhibition & Congress Center.
"Think global and not local" is the demand in the invitation to the ECCO Congress: the congress at the Messe Wien presents the latest results – and there will be intensive discussions among the specialists about treatment and therapy methods for the benefit of the patients.
According to the European Patient Organization Crohn and Colitis (EFCCA), these diseases equally affect men and women. It can occur at any age, but more often in adolescents and young adults between 15 and 35 years of age.
Prof. Silvio Danese, President of the European Crohn's and Colitis Organization: "The topic of the congress 'IBD beyond 2020' offers a fantastic program: The topic highlights will deal with 'hot' discussions about the future of TNF treatments, the challenge of surgery before medical therapy and new ways of monitoring disease activity. "
180 lecturers and 900 scientific posters
Another aspect of the scientific program is the development of quality standards in nursing – how do multidisciplinary teams work together (doctors, dietologists, nurses, surgeons, psychologists, radiologists etc.) – and how can these standards be used for an IBD (Inflammatory Bowel Diseases) centre be developed.
More than 180 lecturers will present the latest findings in the research and treatment of inflammatory bowel diseases. In addition, around 900 scientific posters will complement the specialist discourse. An accompanying trade exhibition with more than 40 exhibitors presents the latest research results in the pharmaceutical sector.
Martina Candillo, Director of Congresses & Events, Messe Wien Exhibition & Congress Center: "We are pleased to host the annual congress of the European Crohn's and Colitis Organization again at the Messe Wien Exhibition & Congress Center after 2018. This congress once again underlines Vienna's leading role as a place for scientific encounters, particularly in the field of human medicine. " (+++)
Information about the 15th Congress of the European Crohn's and Colitis Organization:
ECCO Office – European Crohn's and Colitis Organization
ecco@ecco-ibd.eu
Messe Wien Exhibition & Congress Center:
Paul Hammerl, Director Brand PR Reed Exhibitions Austria
Tel .: 0043-662-4477-2400
paul.hammerl@reedexpo.at